---
A selection of creative projects, some ongoing, some paused and some closed. In recent years we've become interested in projects promoting education, co-creation and regeneration with environmental, economical and sociocultural benefits. Believing in responsible, transparent, fair-trade and traceable work ethics, with an emphasis on continued learning and improvement.


---
hello
HAMIDASHIMONO
---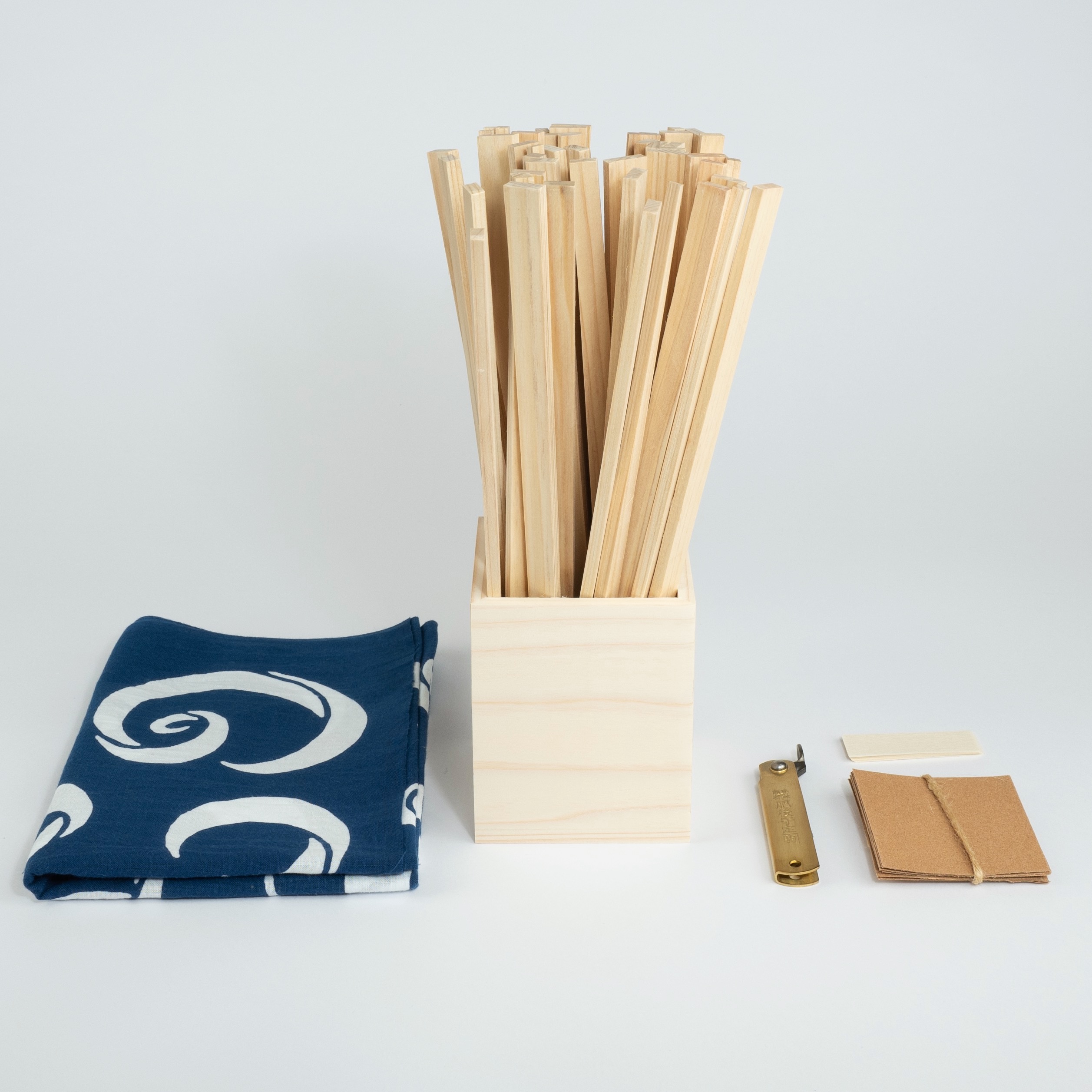 Make your own chopsticks with Hamidashimono.

We use upcycled premium cypress from the chopstick manufacturing process. Every Hamidashimono is shaped, collected, stored and dried as if it were a regular pair of chopsticks and once carved, is ready for use as an eating utensil. All wood comes from from sustainable forests near Yoshino, Nara, in the heart of Japan's timber country.

This project is a collaboration between designers Jan Chipchase, James Gibson, Eko Hayashi and the Kitamura Seihashisho.


---
hello

ONE TREE ACADEMY
---
Rekindle the spirit of campfire storytelling.
"Schools began with a man under a tree who did not know he was a teacher, sharing his realisation with a few others who did not know they were students."
—Louis Kahn


A platform inspired by outdoor culture from which to view the world and share our stories.

On the border between the city and mountains we built a new type of outdoor space. A place away from the stress of our daily lives, to decompress and reset our minds and bodies. You could say it's a classroom where everyone is a teacher and a student, sharing and listening to stories around the campfire. Stories Inspire us and help us remember the important things in life, they strengthen our community, while reconnecting us to the natural world.


"In every walk with Nature one receives far more than he seeks."
—John Muir.
---
Hello
Lost Again Club
---
Outdoors with Love


•O•W•L• is a project by Masaki Yokoyama, Takeuchi Futoshi, and James Gibson.

Using new materials and fabrication techniques to make minimal gear for trail runners, hikers and adventurers around the world. Our goal wasn't to make more gear, or the same gear as other brands, but minimal products with specific functions that fulfilled our basic necessities while moving outdoors with love. It is because we love being in nature, and want to continue enjoying its beauty for many years to come, it became hard to continue making more things. We not only want to be conscious consumers, but conscious makers and to cause no unnecessary harm (like our friends at Patagonia). For this reason, we decided to pause our production until we could make new things, which not only causes less harm, but actually does good. Products that regenerate the environment and the lives of the people making and using our products, from material manufacturing to recycling, repairing and reusing. We would rather make nothing, more than make something which does not align with our core values. So for now we are rethinking the type of gear we want to make and how to make it. Subscribe to our newsletter and follow us down this path of exploration… a journey of discovery and possibilities.

Until then, we hope you continue enjoying life outdoors with love.

Lost again,
James #deepshiga


---
hello
OKA SKATEBOARDS
---
Being in & riding on nature.


OKA SKATEBOARDS is collaboration between James Gibson & Yoshiro Mizokami.

In 2012 we started making skateboards because we wanted to ride them, it's as simple as that. It began over a glass of beer and a conversation about Back To The Future. We asked the question: "Wouldn't it be cool to make our own skateboards?"

So we did!

All the boards are made by us in Yoshiro's factory set deep in the Shiga countryside. Many of then taking inspiration from classic surfboards and early skateboard designs; cut from wood picked for its colour and natural grain. We don't use griptape, because it isn't needed, we love to see and touch the wood. Why cover it? OKA isn't about the latest trick or going fast. We believe in enjoying life and work, in the quality of simple materials and the feeling of motion, gravity and nature in perfect combination.


A big
THANK YOU.

To those of you who bought, stocked and supported OKA SKATEBOARDS over the years, we say: Thank you, we appreciated all your help. Without you, we couldn't have done it.

Sending out a special thanks to:
Tracker Trucks, Seismic Skate, PaperSky, THE NORTH FACE globe walker, Tree People, COMMONO reProducts, BRIDGE, Klala, Urban Research DOORS, Kapuki, Japonica, GOCCO, Tab, Persica, Retro Colony, analog / tool, COMPASS, Dhal and The Conran Shop.


---