Newsletter 009
Full moon 6:29pm Nov 30th. JST


Going in Circles.
---
Going in Circles.

This months newsletter is about last month slow journey: 4 days and 3 night bikepacking around Biwako (Lake Biwa). In a window of fine weather, I hastily packed bags, pumped tires and jumping on my 20 year old BD-1 and started peddling north (anticlockwise) from Hikone beach.

My plan to save weight by not carrying cooking equipment was undermined by all the recording gear packed. I had a loose idea to record the journey in some way, writing a little each day which would later become this Newsletter. To that, add some photos and perhaps 4K filming and that would be that. I've lived near this lake for many years, it's coastline quite familiar, but this is the first time I've gone human-speed the whole way round. I really just wanted to get outside, move body and take a closer look at where I lived. If I could capture some inspiration along the way, then all the better.


In this way I rode my curious red bicycle some 215km in four days, two panniers on the front and a 15L pack on my back. I slept on beaches listening to the waves and woke early to the warmth of the rising sun. Legs turning circles, turning circling wheels and thoughts, as I rode one big circle around the lake. Learning that a puncture is an excuse to meet someone new, if only you have the right mindset.

What follows are the daily accounts of this circular journey, read on at your own peril.


---



Day 1
Monday 26th October

Spring water, wild camping & a lonely campfire.

57km


Leaving Hikone not too far behind, there is a short of stretch coastline, which on first inspection is not too dissimilar to any other around these parts. Moving one house-length back from the insanely busy coastal road, you will find the tiniest of tiny street. More of a pathway winding it's way through this old community which sits beside the lake.

This isn't the first time I've taken this path, but it was the first time to stop and talk to the locals. Mostly small-scale farmer of retirement age, growing enough for themselves and the community. Sending boxes of seasonal vegetables to cities where their children and grandchildren now live.

A few kilometres in length and not more than a handful of houses wide, cut-off from the lake by the noisy line of traffic. There is one unique feature still connecting this and only this community —as far as I can tell— to the lake. They have some sort of fresh spring water system dotted through out the houses, with four or five communal wells supplying a constant stream of fresh, clear spring water.

One lady preparing vegetables in one such spring explained how the water comes from the lake all year round. Now I would't usually drink the lake water, but according to her this water is safe to drink, I took a sip, "metallic taste" I said. "That's right" she replied, "full of natural minerals, it's good for you". Well I'm not so sure it is, but somehow the water is naturally filtered on it's way from the lake to here.

At the next spring around the corner a group were washing kabu & daikon in their communal spring. Sunlight filling the space, it was idyllic. Being my first stop and just a few kilometres from home, I was somewhat ill prepared, only snapping a photo on my iPhone!






Around the corner I took my camera out and from that moment on, kept it permanently attached to my left shoulder at the ready. Soon after that taking my first true photo looking towards the lake across a field full of negi. I had found my rhythm, my photographic theme for the trip and I was on my way.






The days riding was smooth, accompanied by a half-hearted headwind. Stopping for lunch some 32km in at kyuho kissaten. The young owners kindly provide this crackpot arriving on a little-red-bicycle with a delicious lunch set. Traditional kissa coffee followed.







The meandering north coastline is classically picturesque and a joy to ride, but all too soon I arrive at my home for the night. Hidden between a series of skinny tunnels sits a short beach no more and 100m in length. Not an official campsite, I've wild camped here on a few occasions with no trouble. This perfect hideaway has the most beautiful uninterrupted view of the lake south and I'm thankful to have it to myself.

Tent pitched, it was now dark and must be sometime past 6pm, 7pm? It wasn't as cold as I thought it would be, in any case I have a little campfire going for that classic camp atmosphere. I didn't bring any cooking gear, but I did my folding Picogrill 398, suited for occasions like this. When folded, no bigger that an iPad it slides flat into one of the panniers taking up no space at all.







Something about sitting around the fire that night made me feel a little lonesome. I was missing other people. Although, the simple act of packing everything needed into a couple of bags and riding to a perfect lakeside camp was unbelievably awesome. It would've been that much more awesome, shared.

There I sat with lonely thoughts watching the moon trace a line across the southern sky until I fell asleep. I awoke only once during the night just as the moon disappeared behind the mountains to the west. This was when it began to get cold, but I was warm enough.


---
Day 2
Tuesday 27th October
Sleepy towns, flat tires, & concentrated communities.
43km


Was I awake or asleep? 6:30am awake. During the night it was hard to know as the sounds of this physical space mixed with the dream-images in my head. I felt as though I've already been through an adventure before today has started.

Now 7:40am, finally the sun arrives. The past hour I occupied myself with filming and writing, but now the sun is here it's time to pack up and ride once more.

Riding the morning away, completing the north section through the sleepy town of Makino-Higashi. One of the last remaining towns around the lake to not be overly commercialised. The old-main street sill holding onto it's original charm, but for how long? Over the years of passing through Makino, I've often fantasised about owning one of the lakeside properties. Just imagine the view from the living room. Still, even here, even if slowly, the new-homes and jet-skis multiply each year. Thus reflecting the natural changing social value landscape.

Slowly the road turns south into a headwind and I leave this town behind just as workmen test road sprinklers in presentations for winter. Looking down I see a road stained rusty red from the iron rich water. It smells the same as the spring water I tasted yesterday.







I crawl into Ōmi-Takashima looking for somewhere to eat, only to find most places closed and that I have a flat tire. When exploring wild coast & wildlife between Makino and here, where overgrown paths take you to hidden beaches mostly free from human intervention. I picked up a slow puncture.

I look for one of the advertised Biwachi Support Stations as the tools I'd brought with me: compact, light and utterly useless, broke immediately on attempting to remove a tire.

I find a kind woman in charge of this marvel of modern cycle-tourism and I ask for the so proclaimed tools. She brings out a pump from the Showa Era that was not going to fit even if I needed it. I thought about the young team of go-getters with their bright ideas about economic reform and progress… and then the reality that is rural Japan.

Thanking her, I ask about local cycle shops, "there was one, but I'm not sure if it is still open".

With just enough air in my tire I pull into the open garage of a local house. Tools strewn the wall and bench at one end, behind which is a small office full of boxes, heaps of paperwork, and bicycle parts ranging from old to ancient. It was the treasure trove of an old man who loved all things bicycles. His serious riding years behind him, but he still ran this little shop servicing the bikes owned by his fellow locals. An enthusiastic old man who got me back on the road for ¥500, exclaiming that it was perfect weather for riding "not hot, not cold". I didn't understand much of what he said, but I smiled, nodded and gave a few words of encouragement which seemed to please him.






Hungry riding, but good riding, soon arriving at the scenic Shirahige Torii standing in the lake welcoming visitors to the shrine arriving by boat. It was also where my backup lunch plan would fall into place. The view of and access to the torri is now completely cut off by an endless torrent of noise. Not just tourist in cars but articulated lorries hurtling by a meter or two from where desperate instagramers jostled. There would be no filming for me, impossible to cross that man-made divide without endangering one's life, seriously!

Hangrily riding on only to mistake the planned noodle shop for a tourist trap serving expensive tasteless soba. Eaten in a rush to the sound of trucks rushing by, somehow the speed of the traffic influencing my slurping. Nevertheless it was food and food was fuel to ride this hellish section of noise and pollution. Softened by the comfort, convenience and isolation provided by driving, I had forgotten just how much cars impact the landscape. This year of less travel and almost zero commuting —yay— I am rediscovering the joy of riding, of traveling at human powdered speeds.

Cursing the car who came too close I peddled on through this unique scenescape. With its concentrated community filling every inch of space between the lake and mountains. No room for sprawl, it all had to fit here, fulfilling all our daily and worldly desires and needs. The traveler, the merchant, the farmer and the warrior truck drivers fighting endlessly from A to B and back to A carrying the stuff of our progress. In this narrow section of land we've squashed it all in, all except a quiet uninterrupted natural section of lake and mountains. For this part of the coastline is —was— beautiful once, in a time before we turned up and decided to improve it.

I pondered todays contrasts while sitting in my tent, door open just meters away from the lake. Yes meters, it takes meters to get an natural-ish view. Don't turn your head or move any further back as the reminders of our improvements start creeping into view… just ignore that pet bottle, just ignore that pet bottle, just ignore that pet bottle floating by.


---
Day 3
Wednesday 28th October
Fishermen, Fantasy Bubbles, & Sauna Loving Businessmen.

50km




My 6:00am wake-up alarm was two fishermen talking loudly about… well fishing. Nonsensical chatter without point nor conclusion. An endless stream of shouts —standing 10m apart— passed back and forth outside my tent. My tent, the only tent on this 1km stretch of beach.

On the bright side, they did get me up in time to watch the sunrise. Air cool and fresh, sun bright and warm. Myself still and clam as I filmed eastward across the lake.

7:34am and time to move on. There is something comforting about the systematic process of packing and the gentle movement of bikepacking. Quietly arrive and quietly leaving without trace of ever being there.

This morning was once more interesting & disappointing. Still riding south along the west coat. The east coast has open space, enough for commercial farming and industrial parks. Whereas the squashed west coast, provides convenient access to leisure activities and second homes.

Moving slowly following the less-traveled beachside road, I feel like I'm moving through a gradation of changing values. I hadn't noticed these small lakeside villages before. History seems to have started within a generation, only the odd shrine here are there to show any evidence of a time before. Modest communities of ageing residents living closely together in small similar houses. I can only imagine they settled here because of the location. A scenic spot with enough land to grow what they needed and access to the lake for fishing.







As one generation comes to an end, a new generation naturally moves in replacing these old houses and values one by one. Slow at first, but more I peddle south the quicker and more dramatic these changes become. A series of personal bubble fantasies materialised in the form of houses, bars and water-sports resorts. Fascinated and disgusted I pass one house I can only imagine Walt Disney occupied, and another by a drug lord from Miami Vice. Each and all fighting for their small piece of lakeside fantasy.

Peddling my personal fantasy-lifestyle deeper into the suburban landscape, I reach the pinnacle of fantasies bubbles. The adult theme park: Gōrudengēto. According to Google, 'Golden Gate' is a business park and I guess in sorts, it is. I take a detour loop through the park, stopping at what could be described as a castle. Out front, a woman feeds about thirty cats and guarding the parking entrance, a weathered looking man. "A Soapland, not a Love Hotel" he corrected me. Taking a couple of hurried snaps I move on from this strange place of broken dreams.







Making it to Ōtsu (big port) with no real plan and a little frustrated that I had arrived so early. I head towards the old town using intuition as a compass and discover a side of Ōtsu not seen before. A dense city of hardworking people far removed from the spacious lakeside city-of-leisure. Taking small streets crisscrossing a single train line, I pass a local sentō (public bathhouse). Circling back, I go inside. "Did I want to use the sauna too?". Indeed I did. I couldn't believe my luck.

Entering a new sentō for the first time can be daunting, especially these small community bathhouses, where everyone knows everyone. Not too many tourist in this part of town, especially a white-bodied Englishman with a tattoo. You have to be careful with tattoos, I've been thrown out before.

Taking the attitude of: ask for forgiveness, not permission, I step in with a "hello" in Japanese. Only to myself sharing a bath with a group stony-faced businessmen. The type of local businessmen who wear suits of tattoos from knee to neck. I blend in confidently following sentō protocol.

Inside the sauna there was room for four and in there we four sat. Before too long curiosity got the better of one young businessman. After establishing that I was from England, he livened up. A Liverpool F.C. tattoo appeared on a forearm held before me. I wasn't sure if he was more of a football fan or football hooligan fan. He talked enthusiastically about both in detail. Apparently Liverpool Scallies are very strong, I agreed. In this way we sweated the afternoon away in agreement over: English beer was better than Japanese beer and Shiga Prefecture was the best Prefecture & Ōtsu city was the best city. England was also much better —with one hand held up towards the sauna ceiling, the other down by the floor— than America. I apologise to my American friends, but in that tight situation sitting side by side in a sauna no bigger that a wardrobe… I was politely agreeable.

Coasting back to my hotel through new old town streets of Ōtsu, I felt I had found the natural city. A tough city, overlooked and scarred by progress, hidden away behind a lakeside facade.


---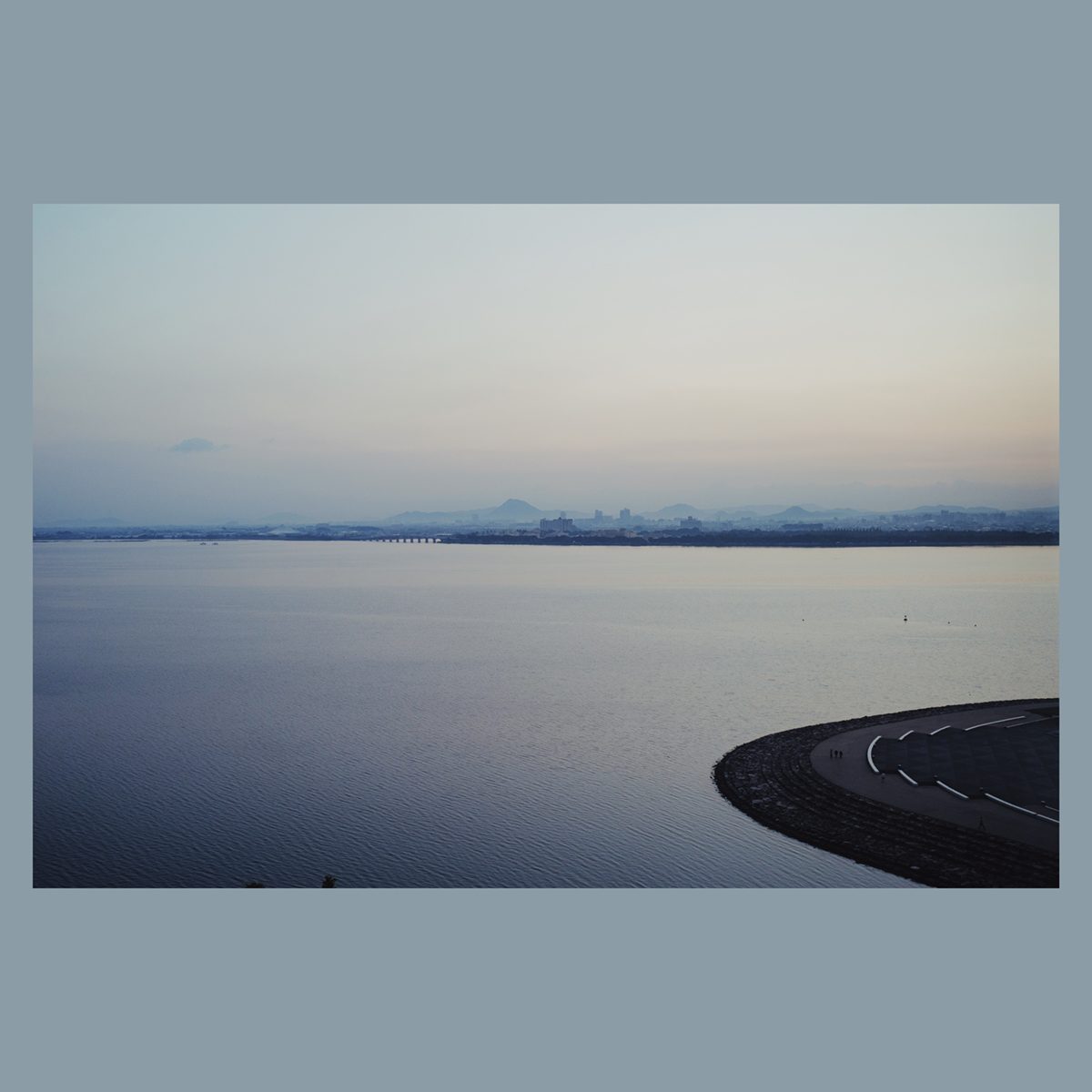 Day 4
Thursday 29th October
Cults, Convenience stores, & Slowness.
65km




Breakfast eaten and coffee drank, it was 8:10am and time to ride the last 60km north to where things started. Sunburnt and saddle sore, I was ready to go home.

Stepping out of the hotel that bright morning was like disembarking after a long-hall flight. Aah, fresh city air. A breeze. Hotels are fine, I've stayed in my fair share over the years and my least favourite are those that seal you in. Or those that promise an open window only to limit the open to a couple of centimetres. I was sealed in on the 15th floor overlooking the lake to the north. The polar opposite from the first night looking south from my beachside tent. I was having fun.







Leaving the city and the city roads behind was quite the relief, but all too soon came the monotony of the road that traces southeast coast. By all accounts an almost perfect cycle-path with one stinky-noisy elephant in the room: trucks & cars. I was late to the whole driving thing and now as I peddle forward, I'm seriously considering going back to that car free life.

I was missing the smaller quiet-wild-indirect roads.

I was in need of a distraction from myself. What was that strange structure on the horizon? Moving closer I find the "MO Utopia Project". The building a typical 20th century Japanese architecture overdosing on material & form. The garden straight out of a fantasy animation movie: huge unnatural bubbling grassy mounds distorting perspective, all decorated with perfectly manicured trees and bushes. It reminded me of the Miho Museum, a gallery-hideaway for a new religious organisation. Oddly curious, somewhat disturbing. Both share a lack of modest restraint when it comes to their display of wealth and material possession. Religious groups in Japan often fall into the convenient grey zone of taxation law.

This stretch of road is stretching what seems to be endlessly on. Feet turn, wheels turn and mind turn over ideas of the social systems we subscribe to. Systems that keep us paying in return for protection or paradise. New daily members born with automatic lifelong subscriptions. Genius.







I succumb to the convenience of Lawson Station, thankful just to reach anywhere. I had expectations of stopping mid-morning at some coffee shop or kissa for a morning-set. Nothing! So Lawson it was. Bad coffee and machine-made onigiri.

Going the other way round, a cyclist who started from Osaka at 3am was making his way home. Some 200km behind him, only 80 to go. He said "my bike is light and fast", I announced "mine is slow and heavy". We both laughed. Turing back once to wave farewell, he sped back towards Osaka.

I sat there for a moment, sipping coffee and thinking 300km in a day? (300!) I decided it wasn't for me, slow was for me. Stopping to take a photo or listen to some locals life philosophy, was for me. I like slow, I like stopping. Maybe if I practice I can get really good at slowness and stopping.

Going in circles nowhere slowly.

With a lightened mind and heavy legs —and that relentless headwind— I slowly, very slowly turned my wheels into Hikone. Completing the circle at the beach I know so well, and where this journey started.

...and so it goes.

James



---